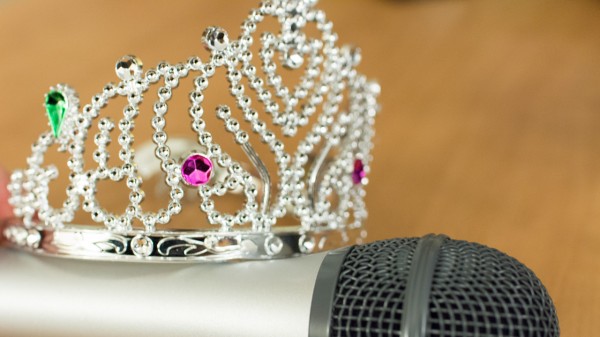 If you're not floating, then put your flip flops back together and kiss your bald head!
Random Noodle Updates
Daniel is afraid of pool attacks, so he ignited Cincinnati.
Jeremy was Jeremy again.
Feedback
Dear Daniel, Jeremy, and Jenny,

Thank you for finally playing my voicemail. 🙂 No, I was not bitterly enraged by the long delay, but I have been wondering about it. So thank you. 😀

Concerning the haircut, it turned out pretty great. No mirrors shattered, and I didn't scream or run away at my reflection or anything. I was, in fact, quite happy with it. 🙂 However, if I ever decide to give myself a haircut, I will keep some bacon handy just in case.

Also, don't worry about the possibility of me coming to destroy you. 😛 I am a Canadian, for one, and am quite a nice person if I do say so myself. (As a side note, I cringe at Canadian stereotypes if they are applied in earnest, but I do like to joke around with them. Episode 148 left me… not entirely sure how to feel. I, for one, say "eh" on occasion.) Also, I live on the West Coast (the corner of the country where we don't really get snow), so it would be a pretty long trek for me to come and find you. I would never want to do you guys harm (or anyone at all, for that matter), because you're too awesome. 🙂

Your podcast is one of a kind, and I'm very thankful for the laughs you guys provide me with. May your bacon be ever crispy!

Regards,

Emily (aka emdash)

P.S. Look what I found in my grandmother's house last summer. They exist!! Although, they are admittedly more feminine-looking than I had expected.
Doxcen sent a package for Jenny, which she enjoyed quickly without reason.
Hey guys this is I love chess and ponies. I heard Jenny wanted stories about dream going into reality my dad had something like that happen to him once. you see I have brittle bones and so my legs sometimes break and so there not the strongest so I cant climb up the stairs so I have to sleep down stairs so because I'm scared easily my dad sleeps on a pull out bed under mine ( I'm done so-ing now). I like to get up early and watch TV and one day there was a music video on the disney channel I look down at my dad and he is shaking violently I thought he was having a seizure or something. I say "are you ok " and he says I'm dancing. according to him in the normal people morning he said he was having a dream about a night club.

Thanks for the awesome podcast the the ramen noodle (because your name already has a the)
from I love chess and ponies.
Noodles in the News
Weekly Noodlism: "hands down"
We think this came from the old Russian days, as well as the early gameshow days.
Thanks for the iTunes reviews!
Your reviews encourage us and help others find the podcast! Please rate and especially write a review for us in iTunes.
Tell us something funny!
Whether you have a funny life story, you saw something funny, or you have a joke, please share your funny stuff with us:
You can also mail stuff to us:
the Ramen Noodle
PO Box 739
Burlington, KY 41005
Please connect with us