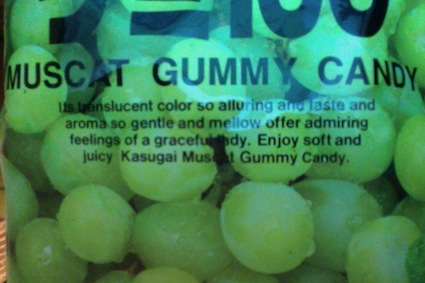 Babycake shakes, the cake that shakes the baby right out of you!
Please vote for us in the Podcast Awards!
Thank you for nominating our podcasts in the Podcast Awards! Please vote for our podcasts every day, November 1–15!
Random Noodle Updates
Daniel nearly self-defensed himself, but this means a longer winter.
Jenny told about the scary broom.
Jeremy was photo harassed at a drive-through.
Your funny stuff
OMG I'M ON THE RAMEN NOODLE!

Hi! I'm Dylan from Hong Kong, Megamind in the chatroom. I just wanted to share something with you guys. In hong kong, there are a lot of knockoff products, and today at the market I found a knockoff grape candy. Apparently, companies like this are to poor to hire a translator, because THIS was the product description, photo included.

"Its translucent color so alluring and taste and aroma so gentle and mellow offer admiring feelings of a graceful lady. Enjoy soft and juicy Kasugai Muscat Gummy Candy."

Yeah.

BYEEEEE!
We received chocolate and a letter from Noah/Mr. Bezzantine.
Hey Ramenittes,

It's 3:30 am on Friday morning and I just woke up to a very funny dream and can't get back to sleep so I thought I would share it with you. You know how when you have to pee in the middle of the night you have a dream about peeing and it's suppose to wake you up so you can get and go? Well I just had the mother of all pee dreams.

I dreamed that Wanda Sykes was a new recruit on the starship Enterprise. And she just learned something that nobody else knows about Starfleet, that when you are in space, you have to wear a urinary catheter. I bet you didn't know that all those characters on Star Trek were walking around with pee bags strapped to their legs. Anyway, she was actually pretty excited about the prospect of peeing where ever and when ever. As the dream went on, she was speaking with Captain Picard and she couldn't stop giggling. Then she would get that shiver you get when you're done peeing (do women get that?). So Picard would get really annoyed with her, and since she was a red shirt, he pulled a King David with Uriah the Hittite and sent her on an away mission. And that was the end of Wanda Sykes career on Star Trek.

Congrats on the all the nominations for the Podcast Awards. I'm voting for you.

Brian Caruthers
PBandJNetwork.com
Tell us something funny!
Whether you have a funny life story, you saw something funny, or you have a joke, please share your funny stuff with us:
You can also mail stuff to us:
the Ramen Noodle
PO Box 739
Burlington, KY 41005
Please connect with us