Podcast: Play in new window | Download (Duration: [47:43] — 22.1MB)
Grab a wrench, pickaxe, and noisy puppy as we run from the bubblegum machine!
Justin Lowmaster from The Space Turtle joins our comedy.
Tell us your funny story about why Jeremy is still missing!
Random Noodle Updates
Jenny found weird things in their deep, dark, scary garage
Justin sucks up spiders, plays limbo, and jumps into holes
Daniel shares about their noisy dog with a noisy toy
Your funny stuff
Ever have one of those moments when driving when some cretin does something rather lame causing you to wish there was a cop around ? I have too, many times. Amazingly enough, that wish once came true for me !
On this particular occasion, I'm minding my own business driving down the road, going to where I wanted to go on a rather busy arterial avenue and aforementioned cretin whips by me on his import motorbike, weaving through traffic at least ten miles an hour faster than everyone else. There I am sitting, wishing there was a cop around to take this two wheeled bandit down a notch or three, not actually expecting one to respond. Two shakes of a lambs tail later, ol' black and blue whizzes by, his bubble gum machine all lit up like a Christmas tree at a Discotheque chasing down our two wheeled cretin friend to the side of the road. Almost lost my jaw and all of my belief !
Ah, Karma !

—Gary
Emily sent us a picture of bacon roses: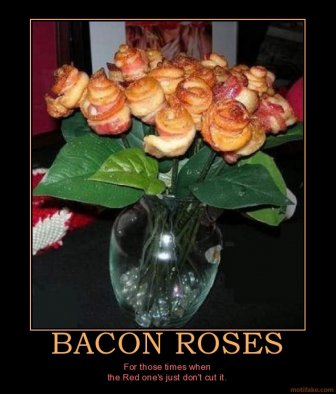 Minecraft server?
We testing our own Minecraft server and you're welcome to join it!
minecraft.noodle.mx
Running this long-term will cost, so please consider donating any amount via PayPal.
Tell us something funny!
Whether you have a funny life story, you saw something funny, or you have a joke, please share your funny stuff with us:
You can also mail stuff to us:
the Ramen Noodle
PO Box 739
Burlington, KY 41005
Please connect with us