Podcast: Play in new window | Download (Duration: [35:59] — 16.7MB)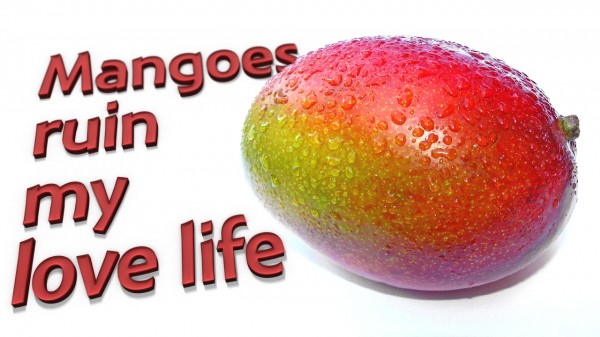 Spiders, CEOs, ghosts, and zombies. Grab a bowl of chili and enjoy with your babies!
We're happy to have special guest Dan Flynn from our Once Upon a Time podcast. He's filling in while Jeremy is for a family loss. He and his family would appreciate thoughts and prayers.
PIZZAAAAAAAAAAAAAAAAAAAAAAAA!
Random Noodle Updates
Daniel discovered he's allergic to mangoes.
Jenny see spiders in her sleep … again.
Dan was almost run over by his CEO.
Feedback
Hello!

This happened today and I just had to tell you guys about this……

My friend Myra has a fancy stereo in her house that makes it so you can play music from your iPod to ALL speakers in the house wirelessly as long as you are hooked up to her houses wifi. I found this out when I was at a party at her house. I was trying to play the song Rudolph the Red Nosed Reindeer in the speakers in her room and accidentally played it for the whole house startling everyone. Ever since then Myra and I have had an inside joke about that. So today I drove past Myra's house and I was playing with my iPod (Don't worry I wasn't the one driving.) and I realized that I was connected to Myra's wifi, so I played Rudolph the Red Nosed Reindeer in her house. The song is a very interesting version of the classic song and it starts out with a goofy sounding guy going "Hey kids!" It is kind of creepy and I can not imagine what it was like for Myra to all of a sudden hear it when she was trying to have a nice dinner with her family.Later she texted me and said she knew it was me because of the choice of song, she also said that the other people in her house were really confused. I don't know I just thought that was funny.

-Isabel
"hjbau" has been dubbed "Heather Just Buried a Unicorn" by RoseIsDancin4Christ.
Noodles in the News
Two guys crash Microsoft in Greece.
20% off regular-priced babies at Babies-'R'-Us/Toys-'R'-Us: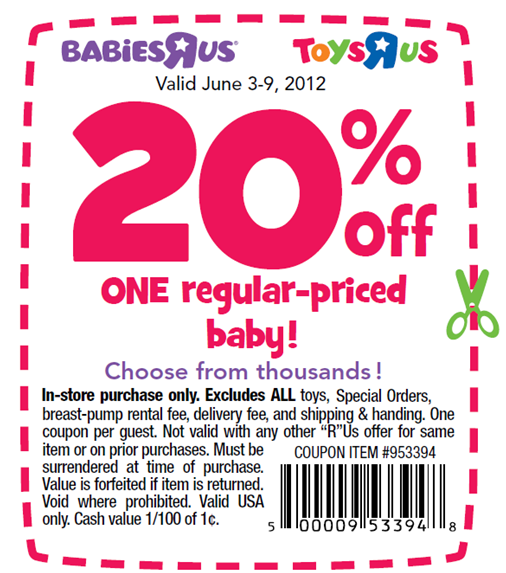 Considerate zombie notice: [via FailBlog]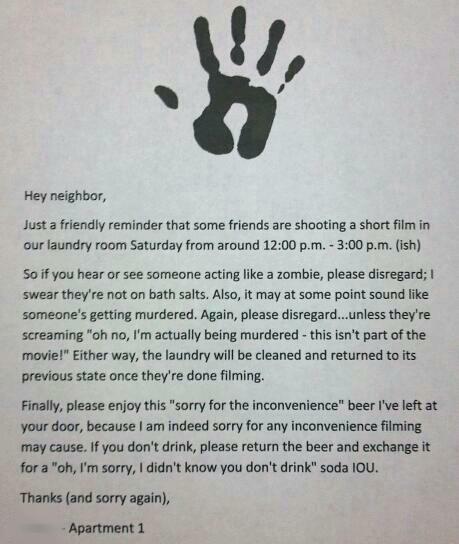 Hey neighbor,

Just a friendly reminder that some friends are shooting a short film in our laundry room Saturday from around 12:00 p.m.–3:00 p.m. (ish).

So if you hear or see someone acting like a zombie, please disregard; I swear they're not on bath salts. Also, it may at some point sound like someone's getting murdered. Again, please disregard … unless they're screaming "oh no, I'm actually being murdered—this isn't part of the movie!" Either way, the laundry will be cleaned and returned to its previous state once they're done filming.

Finally, please enjoy this "sorry for the inconvenience" beer I've left at your door, because I am indeed sorry for any inconvenience filming may cause. If you don't drink, please return the beer and exchange it for a "oh, I'm sorry, I didn't know you don't drink" soda IOU.

Thanks (and sorry again),

[Neighbor]—Apartment 1
Weekly Noodlism: "it's chilly outside"
This is literal chili, probably the waste of zombies.
Tell us something funny!
Whether you have a funny life story, you saw something funny, or you have a joke, please share your funny stuff with us:
You can also mail stuff to us:
the Ramen Noodle
PO Box 739
Burlington, KY 41005
Please connect with us