Podcast: Play in new window | Download (19.8MB)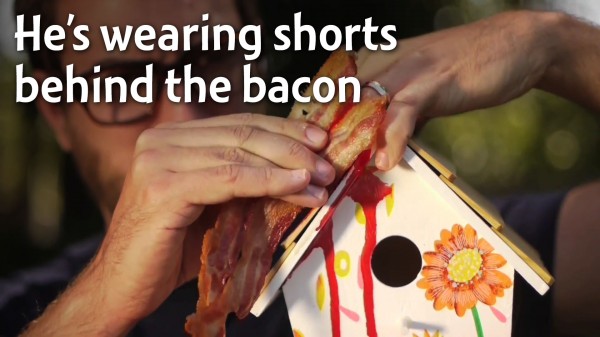 Get ready for some punishment and explosive underwear.
Random Noodle Updates
Daniel jammed a screwdriver into his face

Jenny tells the screwdriver story from her perspective
Jeremy's toast

Rub some bacon on it!
Our conversation also reminded us of some classic Heinz Ketchup commercials:
And here's a newer remake:
Your funny stuff
We get to hear responses from both Ian and Kristen on their developing love story stalker relationship.
No episode June 6 or live show June 13
Daniel will be presenting at BlogWorld NYC next week, and traveling after that, so the next live the Ramen Noodle will be on June 20. But we prerecorded an episode for your enjoyment in the meantime!
Tell us something funny!
Whether you have a funny life story, you saw something funny, or you have a joke, please share your funny stuff with us:
You can also mail stuff to us:
the Ramen Noodle
PO Box 739
Burlington, KY 41005
Come watch the live shows!
We record the Ramen Noodle™ live at 6:00 p.m. (EDT/GMT-4) on Wednesday nights at
Noodle.mx/live
. You can enjoy some pre- and post-show hilarity, chat with us and other listeners in the chatroom, and see behind-the-scenes of a clean-comedy podcast recording session. We hope to see you there next time!
Please connect with us
Check out more Noodle.mx Network shows
Hire Daniel to help you launch or improve your podcast.