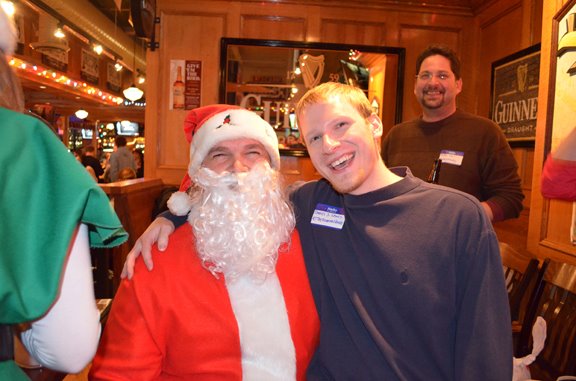 Merry Christmas! Santa and The Grinch both join us in stories of Facebook, spiders, other funny stories, and even a tale of true love (via Ketchup).
Random Noodle Updates
Daniel received a Christmas mooning.
Jeremy shares a Facebook post from a clever taxi driver.

This reminded Daniel of a phone he found in a Walmart parking lot.
Jenny dreamed of a spider.
Daniel got to sit on Santa's lap for the first time ever.
http://www.youtube.com/watch?v=FlFjR2vUy3M
Your funny stuff
Nathan (@Jadeth30) responded to episode 91 and gave another suggestion for giving a guy tickets to a sports game.
Docxen (not a girl) sent an email to Daniel for Jenny that Jeremy read. Dizzy?
Drew from Westside of Mars podcast called through to Daniel's personal voicemail. He also said something about
Dayna (BlackOutGirl) shared a first impression gone wrong. This gave us the idea to someday have a "first impressions" theme episode.
Ian (Harasnai) found the girl of his dreams by throwing ketchup at her.
Noodles in the News
Mom's laugh scares baby (and us):
EU bans claim that water can prevent dehydration
New podcast Once Upon a Time podcast!
We just launched our new Once Upon a Time podcast! Check it out and please leave five-star reviews on our iTunes page.
Tell us something funny!
Whether you have a funny life story, you saw something funny, or you have a joke, please share your funny stuff with us:
You can also mail stuff to us:
the Ramen Noodle
PO Box 739
Burlington, KY 41005
Please connect with us