Random Noodle Updates
Daniel gave the most-awesome gift-giving advice ever
Jeremy got unnecessary prayers from listener Ian
Jenny makes sick people mad
Your funny stuff
Winnie (@nevrothwen) shared an out-of-context quotation from her nephew.
Nathan (@Jadeth30) called in an emergency message.
Noodles in the News
Glu Mobile releases Cut The Cheese: Fudge Dragon game. Basically Fruit Ninja with farts:
BONUS: Diggy Diggy Hole (from Minecraft)
Featured stories
Jeremy tells of an awkward moment at work.
Daniel and Jeremy also tell how Jeremy got Minecraft and an awkward situation that recently arose.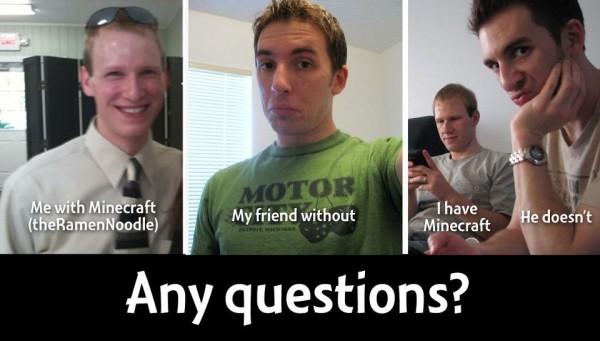 Coming soon: a Once Upon a Time podcast!
We're launching an exciting new podcast to talk about ABC's TV show Once Upon a Time. We're still in initial production, but watch for future announcements.
Tell us something funny!
Whether you have a funny life story, you saw something funny, or you have a joke, please share your funny stuff with us:
You can also mail stuff to us:
the Ramen Noodle
PO Box 739
Burlington, KY 41005
Come watch the live shows!
We record the Ramen Noodle™ live at 6:00 p.m. (EDT/GMT-4) on Wednesday nights at
Noodle.mx/live
. You can enjoy some pre- and post-show hilarity, chat with us and other listeners in the chatroom, and see behind-the-scenes of a clean-comedy podcast recording session. We hope to see you there next time!
Please connect with us
Check out more Noodle.mx Network shows
Hire Daniel to help you launch or improve your podcast.