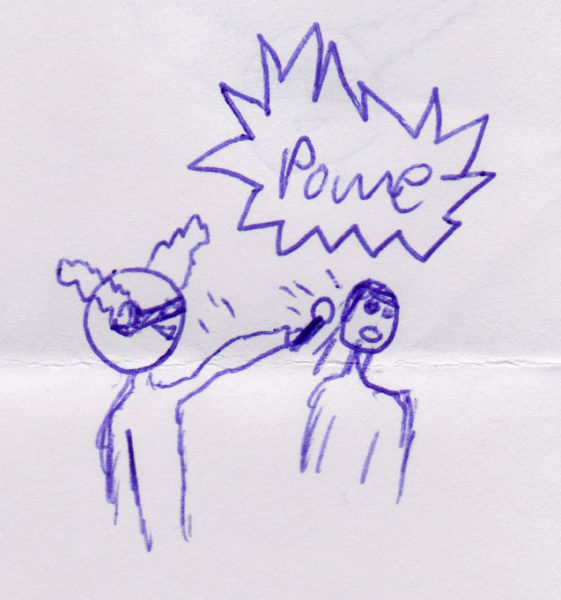 Invite your panda friends over for delicious jalapeños, camping with tractors, and red-neck lawn mowers. Then chow down on this clean-comedy podcast!
Fake sponsor
Are you feeling down and underappreciated? Do you need an afternoon pick-up so you can face the day with the enthusiasm you once had so very long ago? Then come on down to Awards-'r'-Us! Just imagine basking in the glory of being the #1 emoticon-expresser, or the champion of copy machine face oil painting, or the victor of office nail-clipping. You can be the award-winner of your dreams. Just visit Awards-'r'-Us and see why we're so amazing, that we even gave ourselves an award! Awards-'r'-Us: be the winner of your own egocentric imagination!
Random Noodle Updates
Daniel's new nickname is "Red Beard."
Jeremy was pepper sprayed by his meal.
Feedback
Minecrafters3 also sent us some interesting drawings, and chocolate!
We've never received feedback from a exhost before!
DANIEL, YOU WILL READ THIS AS IF IT'S A PLAY. PLEASE ASSIGN DIFFERENT VOICES TO EACH PART. THERE ARE 3 PARTS: DANIEL, JENNY, AND NARRATOR. PLEASE FILL THE AUDIENCE IN ON THESE DETAILS BEFORE PROCEEDING.

* * *

NARRATOR: A note from Jenny to the listeners: In all fairness I'll admit just hours prior to this most entertaining and rare occurrence, I woke Daniel up because of a rather horrifying dream, that felt excessively realistic. It was about a huge spider dangling from a corner of the room nearest my side of the bed. Daniel saved the day (or, rather… the night) as usual. What a guy. However, about an hour or 2 later, THIS happened:

PLAY BEGINS

DANIEL: Pooffff

JENNY: You just said "poof", did you know? … Why'd you say "poof?"

DANIEL: doors

JENNY: what doors?

DANIEL: someone just showed me the doors.

NARRATOR: Driven by the prospect of revenge, Jenny continues the conversation.

JENNY: What are you looking for?

DANIEL: Pants.

JENNY: Pants? What pants?

DANIEL: The right pants.

NARRATOR: Jenny smirks with glee.

JENNY: Are you *wearing* the right pants?

DANIEL: Yes.

JENNY: What's so special about these pants?

DANIEL: They don't doodle every few minutes.

NARRATOR: Jenny starts to wonder if this is really happening or if Daniel had woken up at some point during this bizarre conversation and is now playing along for the sake of having a good story of his own to share on theRamenNoodle. She tries to imagine what he'd say. She wonders if she should go on. She wonders if she should stop. Either way, she is now feeling thoroughly distracted.

JENNY: … Oh. …

NARRATOR: Suddenly she is out of ideas.

JENNY: … Okay…

NARRATOR: Jenny fears forgetting this whole conversation and wonders if Daniel would think it odd if she were to turn on a nearby lamp in order to jot all this down onto a notepad she always keeps in the nightstand drawer. But then, … (PAUSE FOR DRAMATIC EFFECT) … she remembers her laptop in the dining room!

JENNY: I'll be right back.

NARRATOR: Jenny leaves the bedroom trying not to seem conspicuous, heads toward the dining room, and enters the kitchen pausing at the sink. She fills a pot with water and begins making stew. Stew is one of her favorite foods after all. She starts collecting veggies for chopping. While pondering what meat to put into the pot, she snaps her fingers with abrupt realization, as if remembering a very important task. She grabs a large slotted spoon and bursts out of the back door, heading straight for the small, white square in the concrete that's barely visible next to the pool in the dim light of a perfectly round full moon. Jenny opens the small lid of the skimmer and peers down exuberantly at the swollen EDNA within. While scooping out the drifting remains of a thoroughly drowned wild bunny, Jenny is distracted by the sight of the moon reflecting serenely on the water in the pool next to her. Dropping the spoon, which gives a hollow *pip* sound as it collides with largest bit of EDNA now extracted from the skimmer, she dives into the dark and leafy water. Down she swims with toads and worms, and soon she sees a distant light. A thought crosses her mind of a far off sleeping husband, a dark dining room, a dimly glowing laptop, and of thoughts that need to be recorded, … but she brushes aside the urge to leave the pool and her swimming companions, thinking this will be a night to remember.

THE END
Noodles in the News
Two interesting classifieds showed up in a local bulletin board.
Camping supplies

Several items: Full size air mattress, air pump, 40-60 degree fahrenheit sleeping bag 6'3″x 2'9″ – all for $20; Winterstick Snowboard. 149 cm with bindings. $25; Sears Lawntractor. Needs a battery. $150.

Free mower

Mower. Craftsman 22″. Good working engine 6 hp Briggs and Stratton. Broken handle, and wheels are pretty wobbly. Also 5 disc CD changer.
From the makers of Friday comes a new "amazing" song, "Chinese Food":
Thanks for the iTunes reviews!
august.w.booth

HatterMadness
Your reviews encourage us and help others find the podcast! Please rate and especially write a review for us in iTunes.
Tell us something funny!
Whether you have a funny life story, you saw something funny, or you have a joke, please share your funny stuff with us:
You can also mail stuff to us:
the Ramen Noodle
PO Box 739
Burlington, KY 41005
Please connect with us