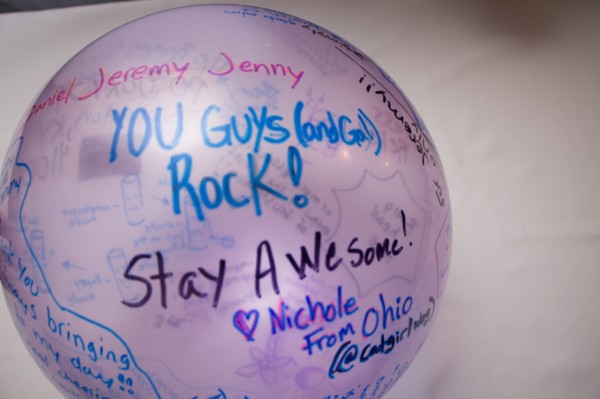 We dig into the archive and pancake around the ball.
Fake sponsor
Gmale, the latest invitation-only service from Google, now provides husbands with automatic conversations.
Feedback
Hi Flegon and Daniel,

I was trying to prove to my dad that if I stood on the rake it wouldn't hit my face because the handle was slightly crooked. I was wrong. brooze number 1.

about 6 months later (last week) I was at a place called infinity. The room I was in had mirrors for the floor, walls and roof. The lights flashed on and off and lasers created a star like effect. After playing for a while I tried to find the exit. I forgot to keep my hands in front of me, and I walked full pelt into a mirror.
Yes, I am either clumsy, or just plain stupid.

Maginnis

PS.I am a 12 year old girl from Australia. (back in 9-30-10)
After Daylight Stupid Time, three years ago, Chuck had a surprise.
I woke up panicking that I was half-an-hour late and wondering why my alarm didn't go off. Then I remembered and went back to sleep.

-Chuck

There are only so many ways you can spend that hour. I watched a movie and then when the hour started over i had to restart the movie because if i hadnt there would have been some serious time loop problems with me watching two differnt parts of the same movie at the same time

geez wat else would u do?

Alexandra
Maybe married now?
Hey Ramen noodle, this is Ian from Indiana, I'm a big fan and I have a funny story that I would like to share.

ALL NAMES HAVE BEEN CHANGED TO PROTECT THE INNOCENT

Just kidding. So there's this girl I like named Jenna (but that's not what the story's about) so I was hanging out in PE/gym and she's dribbling a basket ball or something, and I say something probably hitting on her or something and she throws the ball at me. I catch it, but she threw it really hard so it jammed my thumb, anyway, it hurt for a while. That night I decide to pull a prank on her and wrap my thumb in gaws and tell her that she broke it or something. The next day in first period, I put the gaws on my thumb and tell her that I got it X-rayed and the Doctor said it was broken. For a minute, I think she believed me but she didn't really have any sympathy anyway. a few minutes later I say, "just kidding, it's not broken", I can't remember what she said, but I was saying stuff like, "man, that was a good prank, I mean you've gotta admit that was good, I had you for minute there", I was really proud of myself, then she says, "Ian, your fly's unzipped."

Thanks for the laughs!

Ian (11/13/10)
Nichole (@catgirlwog) and Kari (@karibear09) sent us some amazingly creative feedback (scroll up)!
Walmart caskets
Yes, that's right, Walmart sells caskets [affiliate link? Of course!], probably in case you get hit with falling prices.
Tell us something funny!
Whether you have a funny life story, you saw something funny, or you have a joke, please share your funny stuff with us:
You can also mail stuff to us:
the Ramen Noodle
PO Box 739
Burlington, KY 41005
Please connect with us