Go mad-noodle! Eye for eye! Tooth for tooth! "Quote on quote"! And hug your Velcro monkey today.
Random Noodle Updates
Daniel is not yogurt, but has a buffet dream.
Jenny finds hairball-spiders and they freak Daniel, and maybe even old ladies!
(Jeremy was sick and unable to join us.)
Your funny stuff
Hey Guys.

---

Sorry I accidently sent that prematurely.

Hey Guys

---

Fwd:

On Tue, Dec 11, 2012 at [10:45] PM, Spytec wrote:
Sorry I accidently sent that prematurely.

Hey Guys
This happened to me the other morning at about [1:00]. I woke up about [1:00], and thinking it was [7:00] something, went to my sisters room, and tried to wake her up, to get ready for school. And my dad (Who was awake already) Came out into the hall, and told me to go back to bed, and it was only [1:00]. I was still partially asleep, but I still kind of remember it. Thanks Guys. Spytec.

---

PS: I need to learn how to use gmail without accidently sending it.while im still writing.
Hey the Ramen Noodle,

It's Mr.Bezzantine. I recently decided to try to listen to every single episode of your podcast. I downloaded all of your episodes that I hadn't listened to. It was a little too late to realize I'd shoved a lot more noodles in my mouth than I could chew! I was surprised to see that iTunes said that the episodes took up 2 gigabytes fo space. Also, you know how iTunes gives you the info on the amount of time the files take up? Well mine said, quote on quote, " 1.4 days". By the way, this only included 40 of your episodes. Thats, like, one third of the whole enchilada! That startled me. My eyes widened as my mind gave me a sound effect-that amused whistle that people do-WSHOOOOooooo. Hopefully I can get through all of the episodes without getting mad-noodle disease, or having "Be Your Own Kind Of Noodle" Permanently implanted into the core of my brain-resulting in noodle-brain. Ok, that wasn't really that funny.

Wish me luck, colonpee, rub some bacon on it, be your own kind of noodle, flavour your day, ETC……..

Mr.Bezzantine
Upcoming theme: childhood leftovers
We want to have a themed episode about the funny child-like things we still do when we should have grown out of them. Or this is a great time to tell the hilarious childhood things you did that you're now embarrassed about.
Think of things you did, said, believed, wore, and more!
Next live show on January 16
Daniel and Jenny will be in Las Vegas for New Media Expo and Consumer Electronics Show, so the next live show will be on January 16, at the normal time of 6:00 p.m. (EST/GMT-5).
Bonus: Jenny's Halloween custom
Designed by Mary: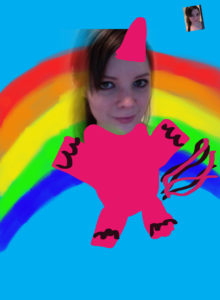 Bonus: Charlie the Unicorn 4
Tell us something funny!
Whether you have a funny life story, you saw something funny, or you have a joke, please share your funny stuff with us:
You can also mail stuff to us:
the Ramen Noodle
PO Box 739
Burlington, KY 41005
Please connect with us