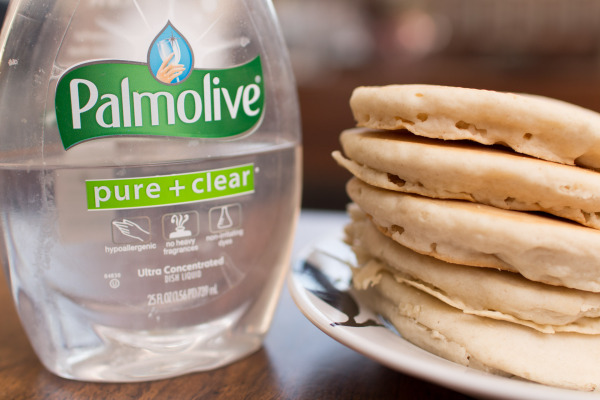 Get ready for Christmas with our last clean-comedy podcast of the year!
Fake sponsor: Chocobasco
Are you a man's man who wants to enjoy chocolate without sacrificing any manliness? CHOCOBASCO! Chocobasco combines a smooth, chocolate shell WITH THE RAGING BURN OF TABASCO.
When you want chocolate without criticism, EAT CHOCOBASCO.
Random Noodle Updates
Daniel's hair is making him look forward to baldness. How to make hot cocoa more manly. Pre-washed pancakes (remember the washed chicken from episode 13?). The taste of Egg nog of dog.
Jeremy was reminded of Creepy Crawlers:
Feedback
I thought I heard a song about Jesus on a TV commercial. I got excited and looked up.

They weren't singing about Jesus. It was a commercial for Chuck E CHEESE'S.

—Kyra
My Dad owns a restaurant, and I help there sometimes when I'm off of school. One of the things I help with is passing out flyers, or putting them on the windshields of cars.

One day, I was walking downtown putting flyers on car windshields, I had already leaned over and had my hand on the windshield when I noticed that there was a guy sitting in the car! I was so scared!

The first rule of putting flyers on windshields is not to make direct contact with the person who owns the car. But then I saw that he was on his phone and didn't notice me. Then, feeling like a stalker, I snuck around to the other side of the car to see what he was doing, HE WAS PLAYING CANDY CRUSH SAGA! Seriously, this guy was SO engrossed in his phone that he did not notice someone sneaking up and putting a flyer on his windshield, or looking through the window over his shoulder.

—Brooklyn
## Amazoning Noodle
Make this your only stock and store
By Edgar on July 8, 2008

Once upon a mid-day sunny, while I savored Nuts 'N Honey,
With my Tuscan Whole Milk, 1 gal, 128 fl. oz., I swore
As I went on with my lapping, suddenly there came a tapping,
As of some one gently rapping, rapping at the icebox door.
'Bad condensor, that,' I muttered, 'vibrating the icebox door –
Only this, and nothing more.'Not to sound like a complainer, but, in an inept half-gainer,
I provoked my bowl to tip and spill its contents on the floor.
Stupefied, I came to muddle over that increasing puddle,
Burgeoning deluge of that which I at present do adore –
Snowy Tuscan wholesomeness exclusively produced offshore –
Purg'ed here for evermore.And the pool so white and silky, filled me with a sense of milky
Ardor of the type fantastic of a loss not known before,
So that now, to still the throbbing of my heart, while gently sobbing,
I retreated, heading straightway for the tempting icebox door –
Heedless of that pitter-patter tapping at the icebox door –
I resolved to have some more.

Presently my soul grew stronger; hesitating then no longer,
'This,' said I, 'requires an extra dram of milk, my favorite pour.'
To the icebox I aspired, motivated to admire
How its avocado pigment complemented my decor.
Then I grasped its woodgrain handle – here I opened wide the door; –
Darkness there, and nothing more.

Deep into that darkness peering, long I stood there wondering, fearing,
Doubting, dreaming dreams of many Tuscans I had known before
But the light inside was broken, and the darkness gave no token,
And the only words there spoken were my whispered words, 'No more!'
Coke and beer, some ketchup I set eyes on, and an apple core –
Merely this and nothing more.

Back toward the table turning, all my soul within me burning,
Soon again I heard a tapping somewhat louder than before.
'Surely,' said I, 'surely that is something at my window lattice;
Let me see then, what thereat is, and this mystery explore –
Let my heart be still a moment and this mystery explore; –
'Tis the wind and nothing more!'

From the window came a stirring, then, with an incessant purring,
Inside stepped a kitten; mannerlessly did she me ignore.
Not the least obeisance made she; not a minute stopped or stayed she;
But, with mien of lord or lady, withdrew to my dining floor –
Pounced upon the pool of Tuscan spreading o'er my dining floor –
Licked, and lapped, and supped some more.

Then this tiny cat beguiling my sad fancy into smiling,
By the grand enthusiasm of the countenance she wore,
Toward the mess she showed no pity, 'til I said, 'Well, hello, kitty!'
Sought she me with pretty eyes that seemed to open some rapport.
So I pleaded, 'Tell me, tell me what it is that you implore!'
Quoth the kitten, 'Get some more.'
Chateau du Lait Blanc, watch out!
By Philip Tone on August 9, 2006

One should not be intimidated by Tuscan Whole Milk. Nor should one prejudge, despite the fact that Tuscan is non-vintage and comes in such large containers. Do not be fooled: this is not a jug milk. I always find it important to taste milk using high-quality stemware — this is milk deserving of something better than a Flintstones plastic tumbler. One should pour just a small dollop and swirl it in the glass — note the coating and look for clots or discoloration. And the color — it should be opaque, and very, very white. Now, immerse your nose in the glass and take a whiff. Tuscan transports you instantly to scenic hill towns in central Italy (is that Montepulciano I detect?) — there is the loamy clay, the green grass of summer days, the towering cypress. And those gentle hints of Italian flowers — wild orchids, sunflowers, poppies. Then, one takes in the thick liquid and lets it roll across and under the tongue — what is that? perhaps a hint of a nutty Edam cheese? With Tuscan, you feel the love of every dairyperson involved — from the somewhat sad and deranged farmhand shovelling steaming cowpies to the bored union milk maiden dreaming of leaving this soul crushing life behind for a job waiting tables for obnoxious American tourists in Siena. But not too fast — sip gently, slowly, or one is in danger of not only missing the subtleties of the milk's texture and its terroir, but — if chilled too long — also of giving oneself a blinding ice cream headache. Nay, savor the goodness that only dairymen and dairywomen working at the apex of their craft can deliver. Tuscan is best drunk young — no, no, don't cellar this gem — I guarantee you'll be sorry if you do. I recommend pairing with freshly baked macadamia nut scones. Milk Expectorator gives this one a 92.
Combine with other foods!
By J. Fitzsimmons on August 5, 2006

Has anyone else tried pouring this stuff over dry cereal? A-W-E-S-O-M-E!
We'll be back on January 7
To celebrate Christmas, New Year's, and other stuff, we're taking a break and will return at the same usual time on Wednesday, January 7.
Thanks for the iTunes reviews!
Your reviews encourage us and help others find the podcast! Please rate and especially write a review for us in iTunes.
Tell us something funny!
Whether you have a funny life story, you saw something funny, or you have a joke, please share your funny stuff with us:
You can also mail stuff to us:
the Ramen Noodle
PO Box 739
Burlington, KY 41005
Please connect with us