Try duct tape, for the morally gray areas of life.
Random Noodle Updates
Ant trap of doom:
Ellie's "Jenny Monkey" photo gets all the focus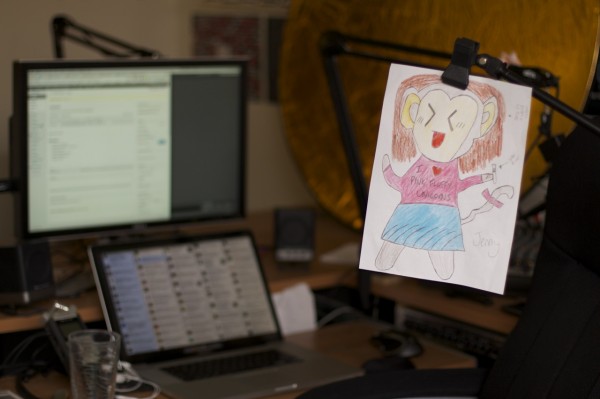 Feedback
Trevor Bottoms told us about his epic crash with secret handshake.
Dear the Ramen Noodle,

Thank you for this awesome podcast! It is extremely entertaining, and very funny. I found this podcast about a week and a half ago while browsing itunes for new podcasts. Ever since then, I have listened to at least 100 podcasts and have loved every one. It is hard to find quality, clean comedy podcasts on itunes any more. I only have one little suggestion. You may want to start warning listeners about listening to this podcast while going to sleep or while spacing out. It has a strange affect on the brain. I learned this from my experience.

I rarely dream about anything, but while listening to your podcast last night I was having the strangest dreams I have ever had. One of my dreams that I distinctly remember, was about an old lady cooking bacon on a rainbow over a lake that is by my house. The whole time, she was staring at me while flipping the bacon in the pan. I woke up to the podcast playing through my headphones, and realized what was most likely the source of the source of this very odd and random dream. Anyways, thanks for the wierd dreams, and the awesome podcast.

Your new fan,

4n1h0ny (Anthony)

F.Y.I I am 13 years old, homeschooled, and listen from colorado.
Todd Mariot from Battle Victorious casts out parked cars in the name of Jesus
Weekly Noodlism
Instead of saying, "Take with a grain of salt," we suggest following Mary Poppins' advice, "Take with a spoonful of sugar."
Thanks for the iTunes reviews!
silverwatch
WKDWAFFLEMAKER
Your reviews encourage us and help others find the podcast! Please rate and especially write a review for us in iTunes.
Tell us something funny!
Whether you have a funny life story, you saw something funny, or you have a joke, please share your funny stuff with us:
You can also mail stuff to us:
the Ramen Noodle
PO Box 739
Burlington, KY 41005
Please connect with us