You knew that we'd be trouble, and this one will really get your goat!
Random noodle updates
Daniel is Jenny's snake-killer.
Jeremy is a screaming goat face:
Jenny saw someone touching her cake, precious.
Your funny stuff
Auston sent us this insanely wrapped chocolate bar: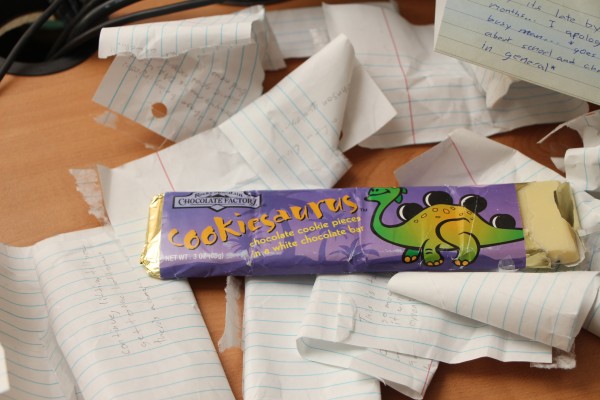 Bonus
Check out our reviews of Jack the Giant Slayer in Are You Just Watching? and ONCE podcast.
Tell us something funny!
Whether you have a funny life story, you saw something funny, or you have a joke, please share your funny stuff with us:
You can also mail stuff to us:
the Ramen Noodle
PO Box 739
Burlington, KY 41005
Come watch the live shows!
We record the Ramen Noodle™ live at 6:00 p.m. (EDT/GMT-4) on Wednesday nights at
Noodle.mx/live
. You can enjoy some pre- and post-show hilarity, chat with us and other listeners in the chatroom, and see behind-the-scenes of a clean-comedy podcast recording session. We hope to see you there next time!
Please connect with us
Check out more Noodle.mx Network shows
Hire Daniel to help you launch or improve your podcast.