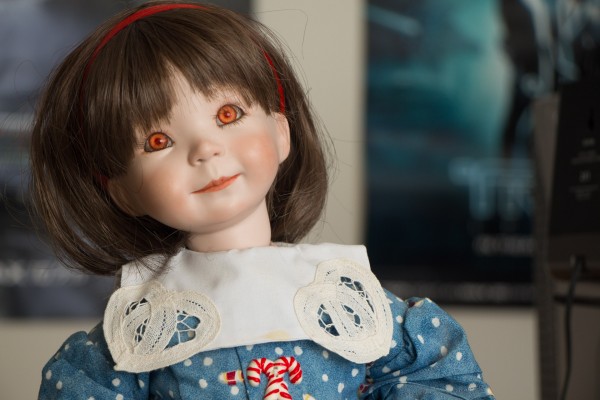 Buckle your pants or else your eyeballs might pop out from this clean-comedy podcast!
Fake sponsor
Pocket Microwaves—the most convenient way to heat your food on the go. (Not recommend children, those with children, those who want children, or those who were once children. Do not use if you have allergic reactions to toxic radiation.)
Random Noodle Updates
Daniel shared from his odd experiences traveling to and fro in South Carolina. Jenny found a childhood doll that has become bitter and creepy (see photo above).
Jeremy can almost pop out his own eyeballs with his brain muscles. Can you?
Feedback
I recently undertook a grand adventure and decided to go back and listen through the entire archive of The Ramen Noodle in an effort to make my work day more interesting. As there is a full metric ton of Noodles to get through, I have decided to listen to the show using a media player that can increase or decrease the speed of the playback. And the theme song played at 1.4x speed is just about the most hilarious thing I've ever heard. Simply amazing.

Thanks for the laughs!

Skwerel
Noodles in the News
"Buckle Your Pants" from Battleblock Theater (Xbox Arcade and Steam):
In case you're interested, the game is is a lot of fun! Daniel and Jenny thoroughly enjoyed it. Here's the trailer.
Send your funny beach stories
Daniel and Jenny recently took a family vacation to the beach and returned with funny stories. Add yours!
Please write some iTunes reviews!
Your reviews encourage us and help others find the podcast! Please rate and especially write a review for us in iTunes.
Tell us something funny!
Whether you have a funny life story, you saw something funny, or you have a joke, please share your funny stuff with us:
You can also mail stuff to us:
the Ramen Noodle
PO Box 739
Burlington, KY 41005
Please connect with us